ABOUT US
About Sonoma Farmhouse
Sonoma Farmhouse began in 2000 when Wayne Sobon and Bob McDonald purchased the original 1890's Victorian bungalow and vacation rental at 446 Third Street West. This home's charm, location within the historic district and walking proximity to the Sonoma Plaza made it an ideal second home and vacation rental.
About Sonoma Farmhouse Town
The main home and upgrades to the cottage and water tower were completed prior to their arrival. The renovations were sympathetic with the home's original interior and exterior features. The landscaping and its garden pathways were upgraded after its purchase and the original vineyard was replanted with Cabarnet grapes which provide the fruit for our Sonoma Farmhouse brand wines, which are also a complimentary gift for all visitors.
Sonoma Farmhouse Town is identified as an historic structure by the Sonoma League of Historic Preservation and has been featured on the Sonoma League's home and garden tour. It was also the childhood home of actor Lloyd Bridges.
About Sonoma Farmhouse Ranch
The Sonoma Farmhouse Ranch property was originally part of the Sonoma Farmhouse Town acreage. In 1950, it was subdivided and a new ranch house was built on one half acre. The property and home was never cared for and was on the path for demonlition when purchase by Bob and Wayne in 2010. Renovations began immediately and the remodel, landscape and pool were finished in 2011. The architectural renovation was thoughtful to the original mid-century California architectural design.
The City of Sonoma approved a vacation rental permit in the spring of 2011.
About the Rental Manager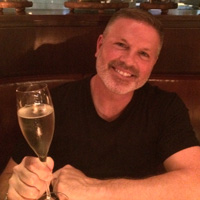 Bob McDonald is part owner and property manager for Sonoma Farmhouse which includes Sonoma Farmhouse Town and Sonoma Farmhouse Ranch house in Sonoma. Bob has been managing Sonoma Farmhouse since 2004.
Bob's background and education is in Urban Planning and Landscape Design. He has a local landscape design business, and has professionally landscaped and lovingly maintained each of the Sonoma Farmhouse properties.
Bob is active in Sonoma, volunteering for the City of Sonoma Planning Commission, and is a member of the Sonoma Chamber of Commerce, the Sonoma League for Historic Preservation and the Sonoma Valley Visitors Bureau. Bob makes sure that every property detail is taken care for your visit at Sonoma Farmhouse, including the maintenance and production of Sonoma Farmhouse brand wines. Please enjoy a complimentary bottle of this wine from Sonoma Farmhouse during your visit.

Bob McDonald's LinkedIn Profile